The dream of being an online business owner began while I was on maternity leave with my daughter. I got the itch to find a telecommute job so I could stay at home. After hours of research and lots of phone calls it didn't work. As any other working mom I returned to work fulltime, switched companies and had a second child.

My husband owned and operated a dairy farm. After my son was born we sold the dairy cows. Sometimes it would be after 9:00 at night before him and I would see each other. If something didn't change we wouldn't be teaching the kids the life lessons of a family farm. We decided to keep raising beef cows and cash crop. (No that doesn't mean we grow cash on trees.) There is a still lot of hard work involved it just means we can go on weekend vacations.

Through my experiences, I believe people come into your life for a reason. Diane Hess came into the picture mentoring me. She was one of the businesses I contacted about telecommuting years prior. We took what I was educated in and fifteen plus years of experience as a bookkeeper to assist her with clients. That's when my niche, subcontracting, was born. I've become the go to person providing subcontracting resources for service providers and virtual assistants.

I listened to podcasts on a regular basis. I was like a sponge absorbing as much as possible about the virtual world. That's what inspired me to create my monthly, Savvy Subcontracting podcast. Over the years my podcast connected me with some of the best businesses in the virtual service industry. They've complimented and expanded my services. Some of their resources are books, podcasts, coaching, mentoring and tools. Services I've learned to love continues to be online bookkeeping, creating and maintaining Excel spreadsheets,web research, the podcast and web research.

Now I suppliement income and work on becoming a fulltime virtual business owner. This will enable me to raise my kids to show them a passion can become reality.
infovdos@yahoo.com
Twitter @savvy_sub
Join My Mailing List
Name
*
Email
*
Looking For A Subcontractor?
Services Needed
*
Image Verification

Please enter the text from the image

: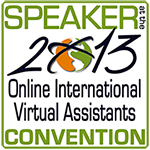 Collette Schultz
New Lisbon, WI
Phone: 608 853 1435
Email:  infovdos@yahoo.com
@savvy_sub