When it comes to side hustles, we all want to find something that will last. It's absolutely possible, and it's exactly what I've been doing. I'm reflecting on my journey as I approach my tenth year of being a part-time virtual service provider. Don't get me wrong, things haven't always been a breeze. Nothing starts out perfectly, and there will always be periods of trial-and-error while you figure things out. But if you keep persevering, as I have, things will start to work out, and even prosper. Lately I've been gaining more clients, but without adding on more work, and best of all, I'm enjoying what I do. This is precisely what I've aimed for, and it's in reach for you, too!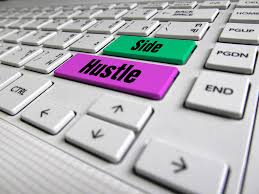 Many of you know that my virtual service niche is subcontracting. This grew as I saw the need for subcontracting: how it can help a business grow, increase profits, and bring greater satisfaction. So, that's what I decided to focus on. Over the last ten years, I've been amazed by the various individuals I've met.
First of all, there's my mentor Diane Hess, who offers a variety of virtual services and has taught me so much along the way. Her experiences have been instrumental to my own success. Additionally, I'm grateful that my first client is still with me after seven years. He's an older gentleman who owns a virtual desktop company, and I've gained valuable knowledge by working with him. And finally, my most recent client has taught me about social media management, which I didn't have the skills for in the past. All three have led me into places I've enjoyed learning from, and I plan to continue to improve myself.
Without people like that (whether it's clients, networking groups, or the like) you won't get anywhere in business. To gain the most value, you also want to teach others. Even just sharing the story of how you got started can lead to interesting and beneficial discussions. An interchange of encouragement and knowledge can lead to big steps in terms of growing your business. Most recently I was able to be on the OIVAC (Online International Virtual Assistants Convention) committee with Sharon Williams, of The 24-Hour Secretary. Now that was a huge step for my business! It led to networking with even more people, widening my circle of opportunities, and being able to learn from their expertise, as well as sharing my own.
For myself (and this may be the case with you too) this supplements my income, rather than being the bread-and-butter of my family. My full-time outside job enables my family to have health insurance, which is an important benefit for us. But this side hustle has given me so much freedom when it comes to spending time with my family. It's part of why I'm able to visit Mackinac Island this summer, both for our 20th wedding anniversary, as well as for my 10th business anniversary.
Don't be afraid to start out small, like I did, and slowly build your side hustle into something that will bring you significant gains in the end!