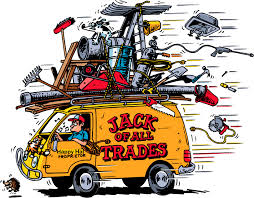 By subcontracting projects for your clients, it's now making it possible for the curious or passionate to discover more about the things that have piqued their interest. This is actually an exciting component of the expert niches.  As small business continue to migrate all over the place it is becoming harder to rely on oneself to help you learn certain skills. This is where subcontracting can be helpful.
Your grandfather likely was considered a Jack of all trades if for no other reason than he had to know a lot about many things in order to survive. He would likely tinker with a failing piece of machinery and get it working again. He could patch or repair broken toys and home repairs were never subcontracted.In my circle of influence I have an acquaintance who was a farmer, railroad engineer, rancher, truck driver and fire fighter. He had a broad range of skills, but couldn't really claim any one career as the defining example of his lifes work. He simply liked doing what he was doing when he was doing it. Thus the old adage, Jack of all trades master of none.
If, for instance, an online user wanted information about installing a word press plugin then he might find the information he needs from a virtual trainer. The exhilaration of finishing the project will likely find that individual has to go back to that site to find out how to relaunch a site, hosting or using a shopping cart.  It's never ending.
Subcontracting opens up new possibilities for the worlds potential Jack of all trades. The want to is combined with access to the how to. The end result is the satisfaction of a completed project and the cost-savings associated with multiple service providers.
Subcontracting are allowing the non-technical computer user access to  computer geeks who can help them navigate their computers and the software applications more readily.
Subcontracting referrals allow service providers access to other providers who have been there, done that, and have the stains and sleepless nights to show for it.
Subcontracting allow the other service providers to dip into a pool of subs with a specific niche to complete client's work.  It's cost effective while avoiding time wasted learning the niche themselves.
Forums allow bicyclists the opportunity to learn more about care and maintenance of their bikes as well as trails they may have never considered.
Indeed, having your own service business can be fun, but it can also be overwhelming. When you, as an online businesses, keep an open mind about hiring a team you are allowing the adventurous provider to gain the opportunity to take your product and the service to the next level.
In an online environment that is centered on the needs of the customer it is important to find ways to allow those customers the greatest opportunity to make use of your product.
The Jack of all trades mentality is a long-standing tradition and you can maintain the practice through an effective team of subcontractors.