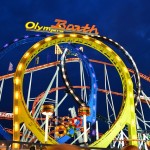 I just returned from my trip to Disney World and the time I spent with my family was wonderful! It was especially nice connecting with my two teenagers and how they still appreciate being with their parents. During my time away, I tried to soak in the memories and enjoy things in the moment. It was a great trip that I'll treasure, and I'm glad that my business helped make it possible.
Speaking of, now it's time to get back to business! As I'm trying to adjust and get back into the swing of things, I'm realizing that I am still on a roller coaster. It takes time to establish a routine and to create processes that keep things running smoothly. I want my business to be run as efficiently as possible, something I'm sure that the rest of you want as well. I do apologize that I haven't kept up on my blog posts the way I want to. I'm getting there!
So, for the next few weeks I'll be focusing on one goal. I've always been very goal-oriented. It keeps me focused and motivated. It's so important to set up something I can look forward to. I'm taking my time deciding what the right goal is. It needs to be within my reach, but not too easy to attain. The challenge is vital. I encourage you to do the same. Brainstorm ideas, write down several goals, then choose a small one to start with. Work your way up from there. Even though we have big ideas for our businesses, we have to be willing to take small steps. Patience and consistency is key.
Success is not about how much money you make. It's about deciding what you want from your business, setting goals, achieving them, and being able to say you reached exactly what you wanted to. You'll gain momentum from the sense of pride you feel.
Now I want to ask for help in getting off the roller coaster. Together, we can figure out how to become more effective. I'll be here, continuing to help you grow your service business with subcontracting. As always, I want to hear from you. Leave a note or send an email if there's something in particular you want to hear about, whether it's contract pay, the bidding process, how to find projects, useful tools, etc. I appreciate your feedback. Send me a message at info@old.virtualteam360.com. I look forward to connecting with you!