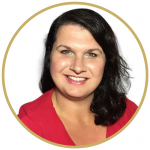 According to her high-achieving clients, Sara Oblak Speicher is a business strategist and performance mentor who brings serenity, peace and confidence back in their businesses and lives.
Those online entrepreneurs say that she creates fun and ease in developing structures so that they can earn more with less work; that's how they can perform at their best – from their zone of genius, and get paid $10k, $20k, $30k and more for their services, with ease and integrity.
And, in case you didn't know:
After moving from a medieval town of 10,000 in Europe to NYC to play NCAA D-1 basketball, barely speaking any English, and after getting MBA degree, Sara went on to start her business in 2011 when she lost her job the same week she found out she was pregnant.
Today, she is a wife and mom to two little ones, an international best-selling author, and is on a mission to help her clients multiply their revenues and build out sustainable businesses in a way that is fully aligned with their strengths, core values, and lifestyle.
Find out more and apply for your call with her at www.saraoblakspeicher.com
Here's to your success, expansion, and peace of mind ~